500 infected in the state were found in the first 60 days, now 500 patients increased in just eight days
Maximum 172 patients in East Singhbhum district; Simdega maximum 34 patients on Saturday
Jun 07, 2020 – news by jharkhandnewspaper
Ranchi / Jamshedpur / Dhanbad. Deputy Commissioner Lohardaga Akanksha Ranjan has confirmed 11 new corona infected patients in the district on Sunday. The number of corona infected has now increased to 18 in the district.
Two of them have returned home after recovering.
The 11 people whose investigation reports were found to be Corona positive on Sunday are all in the Quarantine Center.
All is asymptomatic. His health condition is stable. is being shifted to Kovid Care Center. Of his travel history Information is being taken Tracing the persons of their contact is being done.
After the arrival of new patients, the number of positive patients in the state has increased to 1042. A total of 742 patients are migrants.
The state has seen the maximum increase in patients in the last one week. The first case of corona was found in Jharkhand on 31 March, 60 days after the first case surfaced in the country. A Malaysian girl was then found infected. After this, the figure started increasing gradually. But after the arrival of migrant laborers, it boomed. Initially, the number of patients in Jharkhand took 60 days to reach 500 and now it has doubled to 1031 in just 8 days.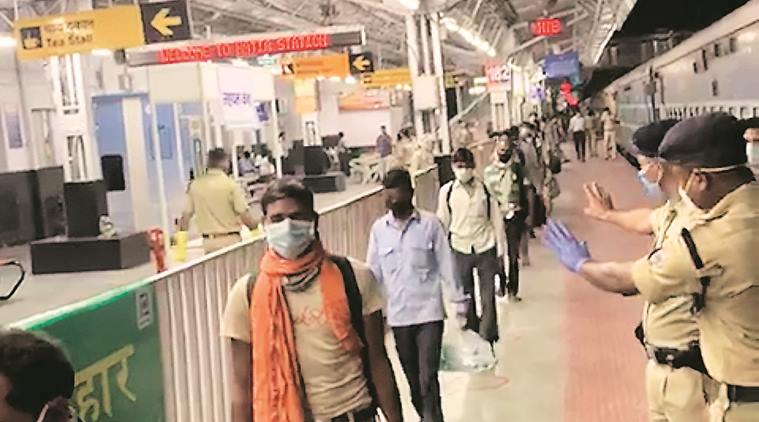 Jharkhand: 170 more patients in East Singhbhum district
Among the 24 districts of the state, East Singhbhum district has the highest number of infected. A total of 172 positives have been confirmed so far. East Singhbhum is followed by 145 patients in Ranchi and 116 in Hazaribagh. The total number of infected in the three districts is 431. That means 41.88 percent of the total patients of the state.
Of the 93 new patients found on Saturday, 34 in Simdega, 21 in Ramgarh, 10 in Gumla, 6 in East Singhbhum, 3 in Hazaribagh, 1 in Khunti, 3 in Latehar, 1 in Lohardaga, 2 in Palamu, 4 in Ranchi, Seraikela Includes 1 and 5 patients from West Singhbhum. Earlier in East Singhbhum, two new patients were also found late on Friday night.
Most of the new patients are migrants, who have returned from other states. Six of the eight infected in East Singhbhum have travel history and two are from contact tracing. All were housed in institutional quarantines. Of the 20 positives found in Ramgarh, 5 are Gola, 4 Dulmi, 5 Vinegar and 6 are from Chitarpur. They all came from Mumbai on May 26 by special train.
Similarly, of the three positives found in Hazaribagh, two belong to Churchu and one to Katakamasandi. Two of them returned from Chennai and the third from Mumbai and similarly, one of the two men found in Latehar returned from Surat in Gujarat.
Corona infection has reached all 24 districts of the state
Jharkhand: Seventh Day of Unlock-1
Coronavirus infection has spread to all 24 districts of the state. The total number of infected people in the state is 1042.
So far 9 infected have died in the state
The death toll from Corona is nine across the state. Five of them have died in Ranchi, while one patient has died in Simdega, Bokaro, Koderma and Giridih. The administration has not included the death of a retired DDC and a laborer in Bengal, in the state.
475 healthy patients in the state
Report : Jharkhand: Seventh Day of Unlock-1
Out of a total of 1042 infected persons in the state, 475 patients have been cured. These include 121 in Ranchi, 20 in Bokaro, 52 in Hazaribagh, 52 in Dhanbad, 17 in Giridih, 19 in Simdega, 31 in Koderma, five in Deoghar, 58 in Garhwa, 18 in Palamu, two in Jamtara, one in Godda, Dumka. Four patients, 33 in East Singhbhum, 06 in West Singhbhum, 09 in Gumla, two in Lohardaga, seven in Latehar, 10 in Ramgarh, 5 in Seraikela, two in Khunti and one patient in Chatra have returned home
There are 742 migrants among the total infected in the state.
Of the total 1042 coronavirus infected patients in the state, 742 are migrants who have returned from other states in Jharkhand after May 1.
Coronavirus (COVID-19): Home Care & Precautions:
What Should We Do at Home?
To protect others at home, someone who is sick should:
As much as possible, keep away from other people and pets in your home.Wear a cloth face covering (or face mask, if you have one) if they must be around other people.
Cloth face coverings are for use only by people older than 2 years old who are not having trouble breathing. Do not leave a child alone while they're wearing a cloth face covering.
To see how to put on and remove cloth face coverings and face masks, clean them, or make your own cloth face covering, check the CDC's guide.
Cover coughs and sneezes with a tissue, throw the tissue away, and then wash their hands right away. Wash with soap and water for at least 20 seconds, or use alcohol-based hand sanitizer.
If possible, stay in a bedroom and use a bathroom separate from other people in the home.
Use separate dishes, glasses, cups, and eating utensils and not share these with other household members. After use, run them through the dishwasher or wash with very hot soapy water.
Use separate bedding and towels and not share these with other household members. 
Also:
If the person who is sick can't wear a cloth face covering (or face mask), caregivers should wear one while they're in the same room.
Make sure shared spaces in the home have good air flow. You can open a window or turn on an air filter or air conditioner.
Do not allow visitors into your home. This includes children and adults. 
All household members should wash their hands well and often. Wash with soap and water for at least 20 seconds, or use alcohol-based hand sanitizer.
Wash the sick person's clothing, bedding, and towels with detergent on the hottest temperature possible. Wear gloves when handling their laundry, if possible. Wash your hands well after handling the laundry (even if you wore gloves).
Every day, use a household cleaner or wipe to clean things that get touched a lot. These include doorknobs, light switches, toys, remote controls, sink handles, counters, and phones. Keep a sick child's toys separate from other toys, if possible.
To protect others in your community:
The person who is sick should stay home unless they need medical care.
Other household members also should stay home. Follow instructions from your doctor, local health care department, or the Centers for Disease Control and Prevention (CDC) about who should stay home and for how long.
If you must go out of the house, wear a cloth face covering or face mask and keep at least 6 feet (2 meters) of distance between you and other people.
Tell other people who were around the sick person. Your local or state health department can help you if you aren't sure who to notify.
Jharkhand: Seventh Day of Unlock-1 – News by jharkhandnewspaper